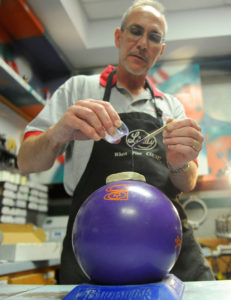 We have published several articles detailing the different bowling equipment that you might want to consider adding to your arsenal. But the work doesn't end when you've selected your preferred makes and models: you need to make sure you know how to keep your equipment in good condition so it'll continue to perform optimally just like the day you bought it.
Maintaining a Bowling Ball
The bowling ball is your most important piece of equipment so it's naturally the one that you'll need to focus on the most with regards to keeping it in good shape. But the good news is that you won't have to invest that much time or money to ensure that it continues to perform well.
There are a couple of things that you'll want to do, however. The big one is cleaning your ball, which is necessary because a bit of the lane oil gets on your ball during each shot, and over time this makes it harder for your ball to grip the lane and hook.
By simply taking a towel and wiping down your ball in between shots, you'll get much of the oil off so it doesn't build up.
Beyond this more preventative maintenance, you will still want to give your ball a more formal cleaning every once in a while; we recommend once every two months or so. To do this, you can either purchase some cheap cleaning supplies or take it to your local alley's pro shop for a good cleaning with professional equipment. (Take a look at this article for more details on methods of cleaning your bowling ball at home.)
There's also more to bowling ball maintenance than just cleaning the outside surface. If you have rubber inserts in your finger holes or tape in the thumbhole, you'll want to be sure to replace them at regular intervals.
Maintaining Bowling Shoes
The only thing that you should have to watch out with your shoes is the soles: they will eventually wear down and make it more difficult to slide during your approach. When this happens, you can use a wire brush or other abrasive item to lightly scrape the sole of the shoe (you don't want to do it too vigorously as this can damage the sole).
But if the shoes are very old and seem too far gone, you may simply want to get a new pair, as there are many good options for reasonable prices.
Other pieces of equipment, like bags, wrist supports, grips, towels, and the like, require nothing more than common sense: if they fall apart or get to the point where they're extremely worn out, it's probably time for a new one. For something like tape, you obviously need to buy more when you run out, so if you use it try to buy in bulk given that you'll eventually have to purchase more and might as well save some money.
Beyond these recommendations, there shouldn't me much else you'll have to do to keep your bowling equipment in good shape, which allows you to focus your attention on your play. Best of luck, and let us know if you have any questions!