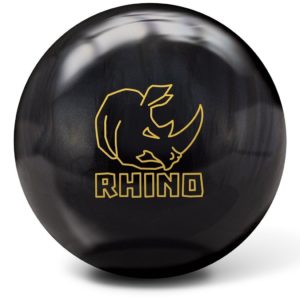 The Brunswick Rhino is a great ball for a bowler who is just starting to learn how to hook and eager to take the next step.
Its R-16 reactive coverstock brings easy length and backend hook without being too affected by the dry and oily parts of the lane. The ball also features a traditional light bulb core which assists with ball motion and additional pin action.
It performs best in lighter to medium oil conditions. View current pricing.
Brunswick is one of the most well-known brands in the world of bowling, so you know they have a long track record of serving their bowlers' needs well.
Take a look at this video to see the Brunswick Rhino in action:
View current pricing for the Brunswick Rhino
Here are the full specs of this entry level reactive bowling ball:
PART NUMBER: 60-105809
CORE TYPE: Light Bulb
COVERSTOCK: R-16 Reactive
COLOR: Black Pearl
FINISHING STEPS: 500 Siaair / Royal Compound / Royal Shine
WEIGHTS: 10-16 Pounds
RG MAX: 2.554
RG MIN: 2.524
RG DIFFERENTIAL: 0.030
HOOK POTENTIAL: Low (10)
LENGTH: Early (25)
BREAKPOINT SHAPE: Smooth Arc (10)
Read more about the Brunswick Rhino and see current pricing.