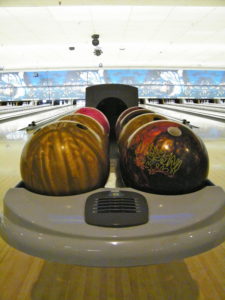 When you're looking for
the right bowling ball
, there are naturally many companies you might choose to go with. But how do you know which ones are most worth your hard earned dollars? As with other types of equipment, there are some brands that have been plying their trade for decades and have earned a well-deserved reputation. But at the same time, some newer upstarts have introduced innovative ideas to the marketplace.
This article will provide a list of the bowling ball manufacturers that you ought to know about, and a little bit about their history and product lines. This question of the best bowling ball brands is also slightly more complicated than you'd expect due to the fact that some larger companies own other brands and market balls under various names.
Top Bowling Ball Companies to Consider
Storm
This company
dates back to 1985
when it was founded by Bill Chrisman as High Score Products, whose first offering was a
ball cleaner
for urethane balls. In 1991, the company expanded to manufacture its own bowling balls, and came up with the name of Storm for that line. Three years later, the popularity of Storm balls had picked up so much that the corporate name was changed to Storm, and it went on to become a dominant brand in the market ever since. Storm balls can be for all skill levels but they are a favorite among many for high-end and high-performance balls. (Other brands owned by Storm: RotoGrip.)
Brunswick
A behemoth as well as a mainstay in the bowling space, Brunswick has historically done much more than bowling balls, with other bowling equipment, its own bowling centers and even billiards as the main three branches of the company. Billiards was actually Brunswick's first division before bowling, and it dates all the way back to 1845. They began to produce bowling balls a couple of decades later in the 1880s to meet growing demand for the sport due to an increase in bowling lanes appearing in taverns throughout the country. Recently, however, the Brunswick company exited the bowling ball and equipment business by selling that division to private equity group BlueArc Capital Management in 2015. Some have said that Brunswick's other business priorities and lack of research and development caused them to slip in ball quality for quite a while, but in recent years their models have noticeably improved. (Other brands owned by BlueArc: DV8, Radical).
Ebonite
Ebonite balls are another popular brand, and their parent company Ebonite International also makes balls sold under a different name, Hammer, which are also extremely popular. Ebonite is headquartered in Hopkinsville, Kentucky which is also where they have their main manufacturing facility. The company has a history of acquiring other bowling manufacturers, such as Columbia which they bought in 2007. Ebonite balls are great for professionals and beginners alike. (Other brands owned by Ebonite: Hammer, Columbia 3000).
900 Global
In contrast to some of the previously mentioned industry stalwarts, this is a company that's on the newer side of the spectrum. 900 Global is headquartered and operates out of San Antonio, Texas, and is just starting to pick up steam among bowlers. (Other brands owned by 900 Global: AMF)
Motiv
The company now known as Motiv dates back to the 1990s when it specialized in making bowling cores. In 2007 it started research and product development for a new type of bowling ball. Motiv balls feature the patented NeoMark graphics technology which integrates graphics and the ball's cover stock so make engraving unnecessary, a development that also improves ball performance. Motiv balls have quickly become popular among bowlers, bringing a lot of attention to the company.
Beyond this, there are a few smaller companies out there that manufacture balls, but the ones mentioned in this article are the main ones you should know about. You might also hear of other bowling ball brands in addition to those mentioned here, and most of those are actually owned by these top companies. Some bowling ball manufacturers haven't survived the competition, such as Lanemaster which went bankrupt a few years ago and had its assets and brands snapped up. Beyond the name of the company there are a number of different types of bowling balls that you'll want to familiarize yourself with. With all of this information in mind, you'll be well-poised to enjoy bowling success on the lanes. If you have any questions about bowling ball companies, let us know in the comments below.